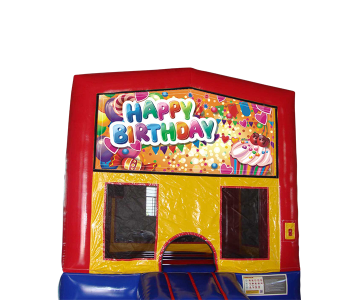 Birthday Themed Bounced House
Our birthday bounce house will make for a great talking point and endless good time at your next birthday event for all ages. Put a little bounce into your party!! Fun for all ages all day long! This large bounce house includes basketball hoop and balls for more fun. Large Bounce house is 15' x 15' with hight clearance needing 18'+.
ALERT: This bounce house can not be inflated during sustained high winds in excess of 20+mph. Please turn the blower off if such conditions arise during your party or event! Turn blower off in any stormy weather.