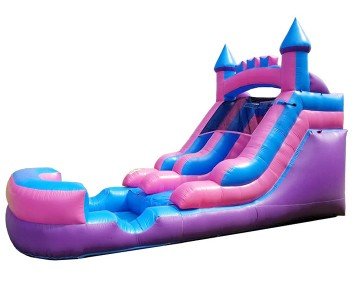 Tall Pink Crossover Wet or Dry Slide
This Inflatable Slide will not be available in severe weather. This Inflatable can not be used with high winds sustained in excess of 20mph. Please turn blower off if this happens or any storms arise. Once everything calms down you may turn it back on and enjoy your waterslide again!
This Inflatable can only be placed on a flat grass surface for your safety. No hills.
This Slide will fit right into any Princess Party theme or even just a girl wanting her own Castle Slide for the day. This is a very popular and fun Giant Waterslide with pool.