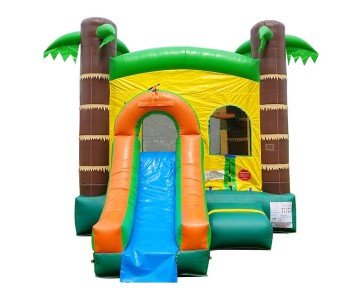 Tropical Crossover Wet/Dry Combo Bounce and Slide
Age limit on this inflatable is 10 years old maximum. No more than 4 to 6 kiddos in at a time. Only one child down the slide at a time for the safety of all.
This Inflatable can only be placed on a Flat grass surface for your safety.
This fun filled Bounce House Slide Combo has a built in water sprinkling system for waterslide use and a pool attachment.
ALERT: This bounce house can not be inflated during sustained high winds in excess of 20+mph. Please turn the blower off if such conditions arise during your party or event! Turn blower off in any stormy weather.